Here's the way to use
less PARTS and less space to bluid 2 WEAPONS
.
To do that you have to use PARTS in 2 or more combinations.
Here's a
simple 2X combination
: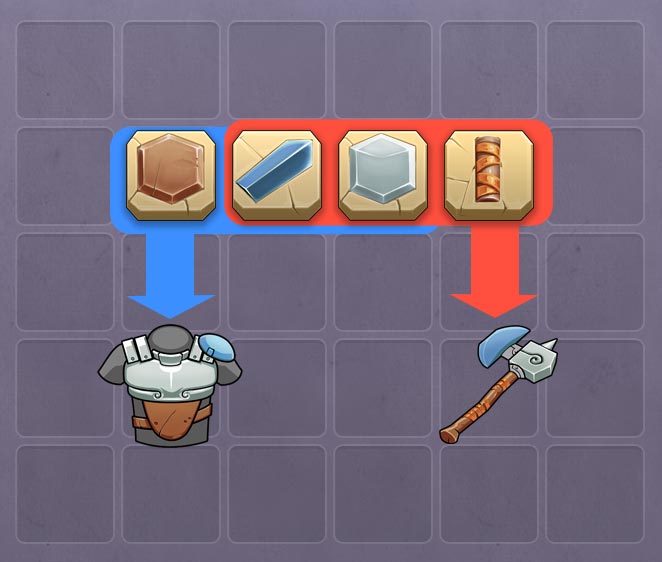 To succeed you have to put the 4th PART at the
center of your combination
(here you'll have to finish with BLADE(lvl2) or PLATE(lvl3))
Note that the two central PARTS are common to both weapons. To easily know if you can do 2 weapons with 4 parts, just check if you have 2 PARTS in common.
Examples:
Sword [BLADE,BLADE,HANDLE] have two parts in common with Axe [PLATE,BLADE,HANDLE] it's interesting to do a combo in this case.
Shield [PLATE,PLATE,PLATE] have only one part in common with Shovel [PLATE,HANDLE,HANDLE] you should avoid to create these weapon together.
Why doing combos?
If you can identify and make combos, you could serve 2 heroes at the same time: you gain
TIME
.
You only use 4 square to do 2 weapons. And you only burn 4 squares too! You gain
SPACE
.
You can maximise the use of a precious ore like crystal or netherium if you put such a part at the center of a combo. In this case you gain
GOLD
.
See? Combo are powerful! But you have to be sure to craft the weapon you need!